Mazda, Stockport
By combining innovative power solutions and user-friendly EV charging boxes, AMS Solutions provided the trusted car dealership with the turn-key solution they needed to meet the demands of the new EV market.
With the new Mazda MX 30 finally ready for the market, Mazda Stockport needed an effective 'turnkey' EV charging equipment solution that would allow them to bring this exciting new vehicle to the Greater Manchester area. As a trusted local car dealership with an outstanding reputation, it was important to do this without ruining the aesthetic appearance of the car showroom.https://www.amssolutions.co.uk/2020/09/what-you-need-to-know-when-installing-electric-car-charging-points/
Although other big players such as Shell NewMotion provided a quote for the project, their solutions would have involved significant disruption including digging up the road, closing the road and an unsightly box in front of the showroom. This is exactly what the dealership wanted to avoid.
Instead, Mazda Stockport chose AMS Solutions for the project. Not only did we provide a bespoke turnkey solution that avoided this disruption and offered a ready-to-go, full package solution, but we also had an existing relationship with the group and a strong track record working with them.
A straightforward, turnkey EV charging solution
We took a two-pronged approach to providing Mazda Stockport with an effective yet straightforward solution to EV charging. Firstly, we chose to install simple-to-use wall box charging equipment from Innogy eMobility UK. Offering both AC Professional Units and a DC Wall boxes, these provided the perfect solution for rapid multi-vehicle charging whilst offering an inbuilt RFID card reader and mobile app authentication for monitoring and verifying EV vehicles in your fleet.
Secondly, we circumvented the need to install earth rods and a feeder pillar by installing the innovative matt:e connection units.  This device can detect load imbalances and safely isolate incoming support or individual loads to reduce the risk of electric shock. This was a key part of the entire project, allowing for a safe installation and minimal impact on the aesthetic appearance of the showroom.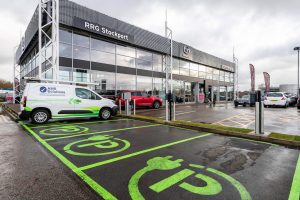 Preparing for the growing EV market
By installing these charge points to brand standards and including AC and DC charging facilities, charge points, bollards, and signposts, we provided Mazda Stockport with the complete streamlined EV charging solution they needed to offer this brand-new electric vehicle to their customers.
From start to finish, the project took just three weeks to finish, allowing Mazda to sell the new MX 30 and offer test drives.
Our solution can be adopted to any car showroom looking to sell electric vehicles. Find out how we can help your business here.