Electric Car Charging Points: What You Need to Know
There are currently 11,000 charging stations in the UK, made up of over 30,000 individual charging points. Numbers are growing dramatically year on year.
In 2018 the UK Government announced its Road to Zero scheme, through which they set aside 15 million pounds to develop the Electric Vehicle (EV) Industry. The Government aims to have 70% of the vehicles being produced in the country in 2030, be low emission EVs.
They have also developed the Workplace Charging System (WCS) which helps businesses fund the installation of EV charging stations on their premises. While 80% of EV charging in the UK happens at home, there has been a rise in businesses choosing to provide their employees with onsite EV charging stations.  Doing this can benefit employers, employees and clients/customers alike.
With the Government offering to partially fund the installation of these charging stations, now is a good time to explore whether this could be beneficial for your business.
The machines are simple to use, simply attach the car to the charging station and leave to 'refuel' for 20 minutes to 8 hours, depending on the speed of the charger. The 8 hours the average UK resident spends at work every day could be the perfect opportunity to charge these cars.
In this article we will be explaining everything you need to know as a business about installing electric car charging points; including who can do this for you, how disruptive the installation might be, the regulations you need to be aware of, and the benefits of installing these charging stations.
Who Installs Electric Car Charging Points
There are many different avenues for charging station installation. However, if you want to make the most of the Workplace Charging Scheme (WCS) grant that The Government is currently offering, you should look for a Government accredited company.
The grant offers up to 75% of the price of installation, up to £350, for a maximum of 20 individual charging points, this is a great choice for businesses of all sizes.
Companies like AMS Solutions can offer you 'full turnkey solutions including site surveys, groundworks, installation and commissioning.'
Companies like this will take the stress out of having the stations installed, and will take care of every stage of the process. They work with the Workplace Charging Scheme to provide businesses with affordable access to the latest eco-friendly power solutions.
Alternatively, some businesses may find they are eligible to receive a charity grant to help cover the costs of their EV charging station installation.
What is Installed?
There are four main categories that EV charging stations fall under; Slow Charges, Fast Chargers, Rapid Chargers, and Wireless Chargers.
Wireless charging is currently not available in the UK. However, it is currently being trialled in Norway, with Oslo taxis. With this system, the car is parked over a 'charging pad' on the floor instead of being plugged in. BMW is about to release a range of wireless charging EVs, these will be the first wireless electric cars on the mass market. The UK government has also invested £40 million in bringing this technology to the UK.
Slow Chargers take 8-10 hours to fully charge an EV. Fast Chargers take 3-4 hours to do this, and a Rapid Charger takes 30-60 minutes to fully charge an EV.
There are also three main types of plugs a charging station can be equipped with. There are three-pin head plugs – these are mostly used in home charging stations – that can be plugged into a 13 amp socket. There are tethered stations that can come with cables that work with both Type 1 and 2 charging systems.  Tethered machines are plugged into your car. Socket machines allow you to plug your car into them. They also work with both Type 1 and 2 machines.
The most common installation in a workplace charging station is a 5-6ft terminal with a Fast Charger, tether charging point.
You will also make a choice as to whether you want to offer a free charging service, membership system, or a pay per minute/hour system. Or maybe a mix of all of these. Many charging stations offer free charging at night when electricity is cheaper.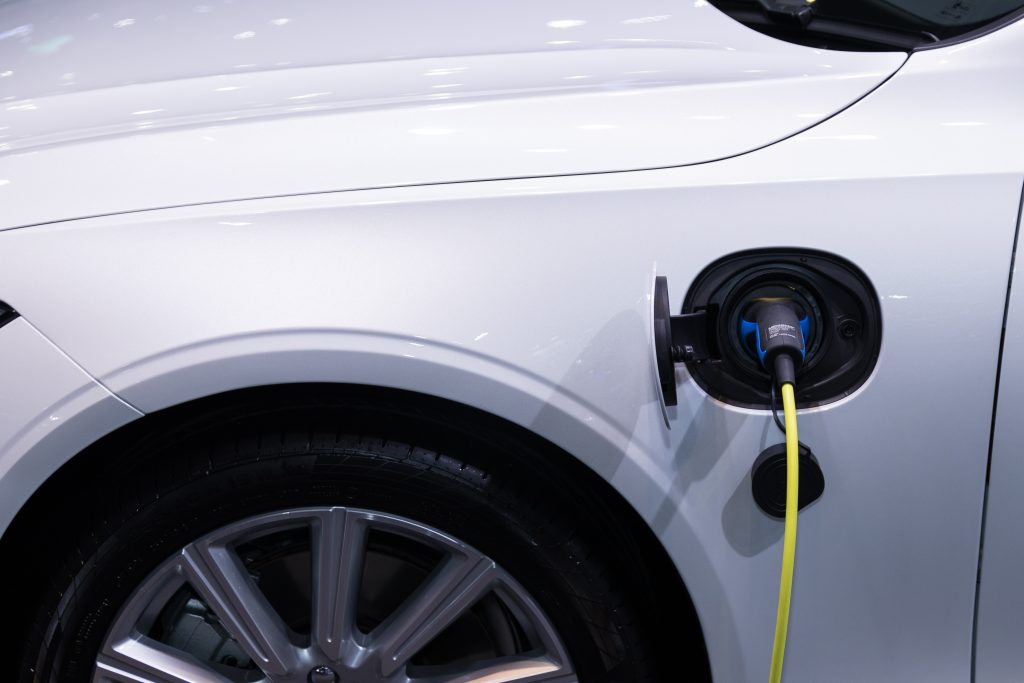 How Will The Installation Affect Your Office?
What will happen on your site?
There are three main stages of having an electric vehicle charging station installed on your premises:
Step 1 – A Site Survey. The company will send a set of surveyors to your location to assess where is the most effective, and safest place to install the charging station. They will then look at where the current electrical work is, and assess what further work needs to be done to prepare your premises for installation.  This is the least disruptive part of the process, it can also be done out of hours if you have a busy location.
Step 2 – Groundwork. This is where the company will place in any extra electrics or reroute existing circuits to provide your charging station with the power it needs.
This is the most disruptive part of the process. It is usually done after hours to avoid any disruption to the business. A large company (depending on the amount of groundwork required) may be able to do this work in one night. This work may include installing a new fuse box, building a new circuit within your building, or modifying existing wiring and/or fuse boxes.Step 3 – Installation. This is the final stage where the engineers will move on to installing that charging points at your site.
Step 3 – Once the company has delivered all their needed equipment onsite this stage will cause very little disruption. The area where the installation is happening will need to be cordoned off, but other than that there will be very little disruption.
How long will it take?
The initial site survey usually takes an afternoon, this is a non-invasive process that will take no more than 8 hours.
While the groundwork and installation can take 2-5 depending on how many individual charging points you are having installed, and the size of the company you have employed to do the work for you.
We recommend looking for companies that offer a 'right, first time, every time' promise, as this will reduce the amount of time that your office is disturbed for.
The Benefits of Installing Electric Car Charging Points
As a business, by installing Electric Car charging stations you may see benefits in many different areas of your business:
As we previously mentioned through government-accredited companies, like AMS Solutions, you will be able to receive a grant for up to 75% of the installation costs, which is capped at £350. The Workplace Charging Scheme (WCS) will cover the installation of up to 20 individual charging points.
If you as a company cover petrol costs for your employees – this can be a huge area of savings for you. The average full charge for an electric vehicle costs £3.00. Compare that to petrol prices and it's easy to see that switching to electric cars and at work charging stations could result in major savings for you.
The installation of EV charging points will allow you as a company to drastically reduce your carbon footprint. This has too many benefits for us to list in one place, so here are just three worth considering:

The planet benefits. You'll be helping billions of people and species live in a safer world.
Public support has dramatically increased in the last few years for companies whose brand values align with eco-friendly and carbon-neutral goals. Supporting this movement can provide you with exposure to a whole new customer base.
Following on from point b, there are several accreditations that companies can be awarded for developing sustainable business practices. One of the major certifications is the B Corp certification. B Corp is an independent body that recognises the 'highest standards of verified social and environmental performance, public transparency, and legal accountability to balance profit and purpose' – they are to sustainable business, what leaping bunny is to the cruelty-free industry. Their award guides thousands of customers to make choices that align with their personal values.

Another benefit of installing EV charging stations at your place of business is that the charging points will give your customers a reason to stay longer on your premises. This can be great for retail businesses who want more time to build relationships with their customers.
A benefit to having charging stations on your premises is to show any visiting clients what your environmental values are. You may find clients that share these values more willing to work with you. Plus any visiting clients with EVs will feel more welcome in your building.
It makes life easier for you employees with EVs, they can charge their vehicles while they work, reducing the fear that they might not be able to travel home.
Regulations for Electric Car Charging Stations
For a deeper understanding of anything mentioned below, please examine the Government's guidelines on the subject.
Workplace Charging Scheme (WCS) Grant
For more information see the official Workplace Charging Scheme page here.
Charities, businesses, and local governments are all eligible to apply for the WCS grant.
To be eligible for the Workplace Charging Scheme (WCS) grant the 'businesses' must have a private off-street parking facility that has enough room for the number of charging points they are hoping to install.
Building Regulations
Whilst construction work is happening on your premises, your company, employees, and customers should be aware of the safety guidelines and building regulations they will be acquired to adhere to.
Electric Vehicle Charging points must be installed into a dedicated final circuit, with load control, and an RCD (an automatic disconnector) – to avoid overloading the circuit.
The UK Government is in the process of introducing new regulations which would result in all sold charging stations requiring to be equipped with smart technology functionality. This is worth considering to get ahead of the curve.
The charging stations must also come with built-in Protective Multiple Earthing (PME) measures. This is a system designed to help prevent the user from getting shocked and hurt by the electrical system they are using, in this case, an EV charging system.
Any Government accredited electrician will be familiar with these regulations, and preparing your premises by performing these adjustments is part of the Groundwork phase of the installation.
Charging Point Etiquette
The Electric Vehicle community is growing at a rapid rate, between 2013 – 2018 vehicle registrations went up from 3500 to 160,000 in the UK. It is important to familiarise yourself with the rules and regulations before joining the community.
Charging bay use is encouraged for EVs only, as they, unlike hybrid vehicles, have no other method of recharging their battery.
Also, the parking bays should be reserved for drivers who want to use the charger.
It is frowned upon in the Electric Vehicle community to unplug someone's car, whilst or after charging. The main reason behind this is that lots of EV models do not allow the car to be locked whilst charging. So, as a business, you may find it worthwhile to invest in heavier security around your new charging station.
Make sure your vehicle can handle the method of charging provided by the station before plugging in – for example, if you have an older model that can't handle rapid charging, do not plug it into a rapid charging station.
Within the EV community it is expected that once your EV reaches 80% charge or enough to allow you to finish your journey, you must unplug and move on. This is so the charging station can be available in case of emergency.
Looking for Commercial EV Charging points?
AMS Solutions offer Commercial EV Charging Installation services in the North of England. Please contact our friendly team today to find out how we can help you.